A CURE FOR JOHNNY RAIN
Original Airdate: December 20, 1959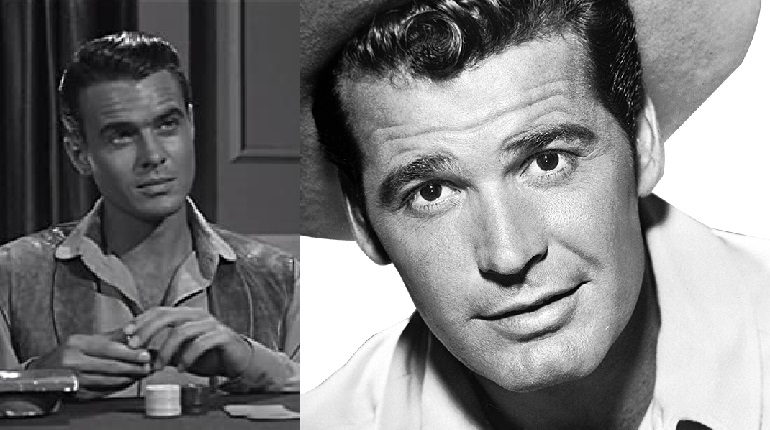 Synopsis. Johnny Rain (played by William Reynolds) is a hero to the townspeople of Apocalypse—the type of man who saves children from runaway horses, mends broken legs, and rides thirty miles through a blizzard to get a doctor for an ailing old woman. He's also responsible for a series of stagecoach robberies totaling $45,000 (including $5,000 from Bret). Johnny, however, is a heavy drinker who suffers blackouts—he only robs while he's drunk and has no recollection of what he's done once he sobers up. Hoping to recover the stolen money (and collect a 25-percent reward for himself), Maverick prescribes a "cure-all" tonic—80 percent of which is alcohol!—so that Johnny can lead him to the money. 
William Reynolds, whom we last saw in the second season's "Holiday at Hollow Rock," made his film debut as Laurence Olivier's son in Sister Carrie. Earlier in 1959, he starred as a jazz concert player who doubled as an amateur detective in Pete Kelly's Blues, a short-lived series produced by Jack Webb (and based on Webb's 1955 film of the same name). In the 196os, he co-starred in series with two Maverick alumni: he played opposite Diane Brewster in The Islanders, then later joined Efrem Zimbalist Jr. on The F.B.I.

LEARN MORE about this episode in the revised third edition of Maverick: Legend of the West, featuring more than 100 pages of new information about the show that made James Garner a star. 25 percent of the net proceeds from the sales of the third edition will be donated to The James Garner Animal Rescue Fund, a nonprofit organization dedicated to raising funds to help rescue organizations, shelters, individuals, fosters, and veterans with emergencies, evacuations, medical care, adoptions, training, pet supplies, shelter, rehabilitation, boarding, transportation, food, and other pressing needs. JGARF is one way for Garner fans to honor Jim's memory and extend his legacy. The revised third edition of Maverick: Legend of the West is available through Black Pawn Press, Amazon.com, and wherever books are sold online.