4./5. DEAD MAN'S HAND (Two-parter) Original Airdates: December 26, 1979 and January 2, 1980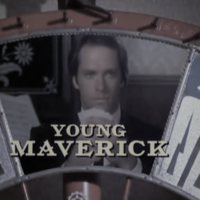 Synopsis. Trouble ensues for Ben Maverick when he inherits a pat hand from a gambler who died during a high-stakes poker game.
Young Maverick (CBS, 1979-1980) was an ill-fated attempt to update the Maverick formula of the late 1950s to TV audiences of the late 1970s. Starring Charles Frank as Ben Maverick, the Harvard-educated son of Cousin Beauregard Maverick, the series faced an uphill fight during its brief network run and was canceled after just six broadcasts. The two-part episode "Dead Man's Hand" featured Howard Duff, future Emmy Award winner James Woods, and future Knots Landing star Donna Mills.
Read More →