THE MAVERICK LINE
Original Airdate: November 20, 1960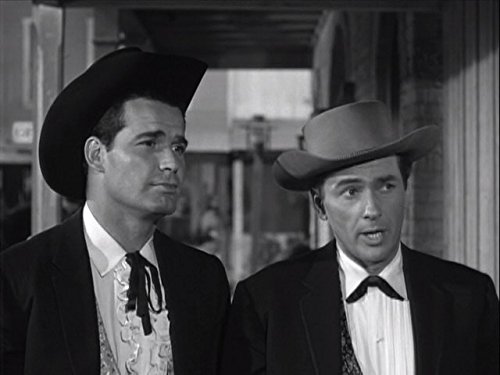 Synopsis. Bret and Bart arrive in Snowflake to claim their inheritance from their late Uncle Micah―full ownership of the Maverick Stage Line. Although Micah had hoped that the boys would run the company, his will allows them to sell it if they can turn a huge profit. Polly Goodin, who had sold Micah exclusive right-of-way through her ranch property, offers the boys $1,000 each per month for life if they sell her 49 percent of the company. Bret and Bart are unaware that Polly has hired an operative named Shotgun Shanks to sabotage the stagecoach and thus negate the deal. Meanwhile, Atherton Flayger, Micah's scheming attorney, discovers a clause that he would inherit the company if the Maverick boys are killed. Flayger hires Shanks to do away with Bret and Bart.
James Garner filmed "The Maverick Line" in March 1960, immediately before the start of his confrontation with Warner Bros. The episode had been originally scheduled for the season-premiere broadcast on Sept. 25, 1960, but was held back in light of the legal battle between Garner and the studio. Garner eventually won his lawsuit on Dec. 14, 1960, about three weeks after this episode aired.

LEARN MORE about this episode in the revised third edition of Maverick: Legend of the West, featuring more than 100 pages of new information about the show that made James Garner a star. 25 percent of the net proceeds from the sales of the third edition will be donated to The James Garner Animal Rescue Fund, a nonprofit organization dedicated to raising funds to help rescue organizations, shelters, individuals, fosters, and veterans with emergencies, evacuations, medical care, adoptions, training, pet supplies, shelter, rehabilitation, boarding, transportation, food, and other pressing needs. JGARF is one way for Garner fans to honor Jim's memory and extend his legacy. The revised third edition of Maverick: Legend of the West is available through Black Pawn Press, Amazon.com, and wherever books are sold online.