ATTENTION DVD PRODUCERS AND COMPANIES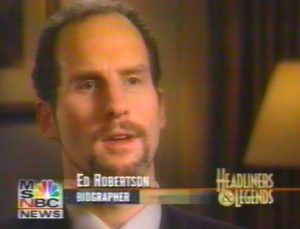 Ed Robertson has provided commentary for many TV documentaries, including projects produced by NBC, A&E, E! Entertainment Television and Warner Bros. Home Video. In addition, he wrote and developed the liner notes for many VHS and DVD titles produced and distributed by Columbia House, the world's largest direct marketer of music, DVDs and videos.
Ed can enhance your next production by providing such services as:
** Historical consultation
** Research, fact-checking
** Audio production and editing of audio commentary
** Conducting interviews
** Voiceover and hosting
** and more
Contact Ed about your upcoming project


TALKS AND PRESENTATIONS

Ed also offers informative and fun multimedia programs to schools, professional associations and companies about the ongoing impact of certain popular television shows on our culture.
To book Ed, or for more information about the programs he offers, call Tony Colao at (800) 453-2887 or email info@mastermediaspeakers.com.

TESTIMONIALS
"Thank you so much for your participation in this project. The show would not have been the success it was without you."
Michelle Reindal,
Associate Producer,
Biography: Married with Children
"Ed Robertson is a tremendous source of classic and contemporary knowledge. His book on The Rockford Files is the premier work on the series and his radio show, TV Confidential, offers a unique insight into the world of current and classic television. He has been a guest on my show several times and helped KOFY-TV host an original Star Trek marathon, greatly aiding in its success."
Damien Kincannon,
Writer/Producer, Retro Night
KOFY-TV, San Francisco
"Ed Robertson is a one-man, entertainment industry powerhouse: Writer, author, journalist, media historian, radio host, producer…. One of Ed's many concentrations is classic television, and yet he is no backward thinker. His eyes and vision for accomplishment are are always front and center with an eye toward the future. I recommend that you not only hire Ed for any worthy literary, publishing or media assignment, but do so before somebody else does in your place."
Herbie J Pilato,
Actor, Author, Producer, Media Historian, and Talk Show Host
"Ed is a great writer. We worked on several projects for Columbia House and he was always a pleasure to deal with. I highly recommend him."
Anthony Saggese,
Listener Care Product Manager at Sirius XM Radio Inc.
"Ed's knowledge of television programming, personalities, stars and history is virtually without peer."
Tony Gill,
Host, The Tony Gill Show
WAIC-FM, Boston