THE COMSTOCK CONSPIRACY
Original Airdate: December 29, 1957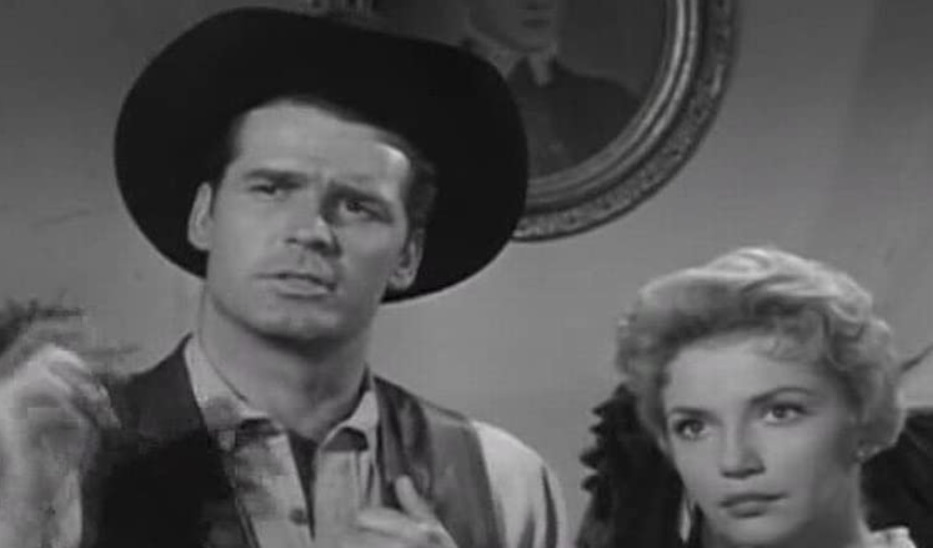 Synopsis. Jerome Horne and John Bordeen run the largest railroad company in Virginia City. Bordeen owes Bret $10,000, but he'd rather shoot him than pay him. Maverick kills Bordeen in self-defense—but after reporting the shooting to the sheriff, he discovers that the body (and all other evidence) has been removed. Maverick becomes further confounded the next day, when Horne pays him the money—and insists that Bordeen is alive and well. 
This episode features an exchange that epitomizes what Roy Huggins had in mind when he created Maverick. In this sequence, Ellen Bordeen (played by Ruta Lee) asks Bret for help:
ELLEN
If my father's posing as John Bordeen,
he's doing it against his will, Mr. Maverick.
MAVERICK
Possibly.
ELLEN
Probably. But what can I do about it?
MAVERICK
Go to the sheriff, I guess.
ELLEN
Jerome Horne put the sheriff in office.
Can you help me?
MAVERICK
No, ma'am.
ELLEN
Because you have your $10,000?
MAVERICK
Yes, ma'am.
ELLEN
You aren't very noble.
MAVERICK
No, ma'am.
Maverick decides to help Ellen, anyway—but only after she convinces him that she knows how to handle a gun. We'll see Ruta Lee again in "Plunder of Paradise" and "Betrayal."

LEARN MORE about this episode in the revised third edition of Maverick: Legend of the West, featuring more than 100 pages of new information about the show that made James Garner a star. 25 percent of the net proceeds from the sales of the third edition will be donated to The James Garner Animal Rescue Fund, a nonprofit organization dedicated to raising funds to help rescue organizations, shelters, individuals, fosters, and veterans with emergencies, evacuations, medical care, adoptions, training, pet supplies, shelter, rehabilitation, boarding, transportation, food, and other pressing needs. JGARF is one way for Garner fans to honor Jim's memory and extend his legacy. The revised third edition of Maverick: Legend of the West is available through Black Pawn Press, Amazon.com, and wherever books are sold online.